Tags are an essential feature of dewey., allowing you to organize your saved Twitter bookmarks and easily find the content you're looking for. But as your bookmark collection grows, it can be challenging to keep your tags organized and relevant. That's why dewey. offers a range of tag management tools to help you stay on top of your tags and keep your collection streamlined. In this guide, we'll walk you through the steps for managing your tags in dewey., how to edit, and delete tags. By the end of this guide, you'll have all the tools you need to keep your tags organized and your saved tweets easily accessible.
In order to get started navigate to the "By Tag" section on the left side menu, this view will show you all of your bookmarks organized by tag. On the top carousel you will see all of your existing tags.

Select the tag you want to edit and click the three dots on the top right corner of the specific tag you want to manage.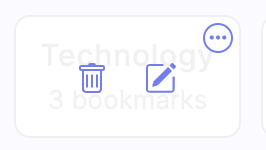 Now you can select between renaming or removing the tag.
This allows quick bulk editing or removing for any of your existing tags.
---