Sharing your Twitter bookmarks with others just got easier with dewey.'s Share to RSS feature. With this feature, you can create a public RSS feed of your saved tweets and easily share it with others, whether it's for professional or personal purposes. This can be a great way to showcase your expertise, share interesting content with your followers, or collaborate with others on Twitter. In this guide, we'll show you how to share your Twitter bookmarks to RSS in dewey, so you can start sharing your bookmarks with the world.
In order to share your Twitter bookmarks to RSS, first we need to make sure our folder is marked as public so others can view the content of the folder. This can be done easily by clicking the folder you wish to mark as public and opening the menu using the three dots on the right side of the selection.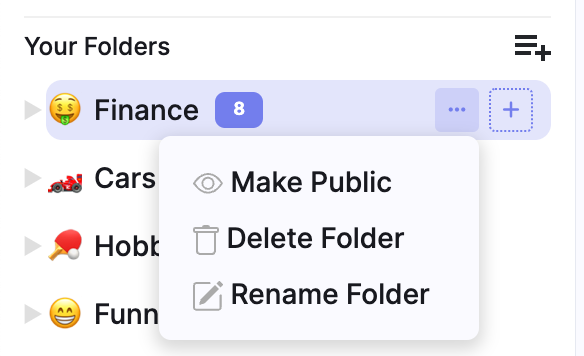 Once a folder is public, click the menu once again (on the three dots) and you will see an option to copy RSS url. Once it is clicked your RSS link is copied to your clipboard and you can use it in any RSS reader.
RSS will continue to update automatically as you update your folder content with new Twitter bookmarks.
---